Shiffrin and Vonn wipe out as Gut seals Aspen giant slalom
Comments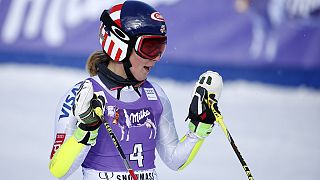 The curse of the US skiers in Aspen continued on Friday as both Mikaela Shiffrin and Lindsey Vonn both failed to finish the second giant slalom of the World Cup season in Colorado.
20-year old Shiffrin who was leading after the first run, crashed out two gates short of the finish line whilst leading the time sheets and with victory clearly in sight.
Four-time World Cup champion Vonn didn't even get to compete in the second run as she was one of 18 skiers who failed to complete the first run at her home nation event.
The last American to win a World Cup race at this venue remains Tamara McKinney in 1981.
After checking to see if Shiffrin was OK Lara Gut started celebrating the victory from the podium enclosure.
The Swiss was third after the first run and followed that up with a stunning second effort to win her first Giant Slalom race since October 2013 and her 13th career victory.
One tenth of a second behind in second place was last season's winner of this event Eva-Maria Brem of Austria.
Having finished the first run in 8th position Brem clocked the fastest time of the second leg to leap up the leaderboard and onto the second highest step of the podium.
Rounding off that podium was the winner of the season opening giant slalom Federica Brignone.
The 25-year-old Italian who celebrated a first career win in Solden last month, was 0.34 seconds off the pace but remains at the top of the discipline and overall standings with Gut now a close second in both.
The American curse can be broke this weekend with a slalom race for for both Saturday and Sunday before the Tour moves on to Lake Louise in Canada next week.