Argentina: Macri outlines plan to put economy on road to recovery
Comments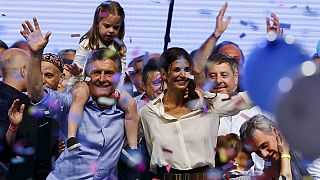 Celebrations in Argentina, but president-elect Mauricio Macri wasted no time getting down to serious business.
Fixing the ailing economy will be the main goal during his term in office. The conservative leader promised to correct mistakes made by the outgoing leftist administration and called for officials at the central bank to step aside.
He said he would be nominating a team his government could count on.
"I am going to put together an economic team as soon as possible," he announced.
"I am not going to appoint an Economy Minister, there will be a Treasury and Finance Minister, plus five other members, who will complete the team, so they can immediately make contact and determine what the real (economic) situation is."
It seems set to be a tough slog for Macri. Among other issues, the former mayor of Buenos Aires will have to tackle slow growth driven by unsustainable spending and inflation at well above 20 percent.
Sunday's (November 22) shift in Argentine politics ends more than a decade of free-spending populism.