Macri promises radical economic "new era" for Argentina
Comments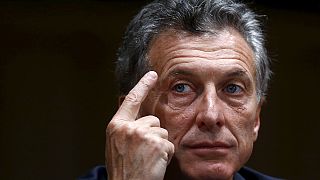 Argentina's Mauricio Macri is promising a radical economic change from leftist government and "the beginning of a new era". He vows to draw a line under twelve years of what Argentineans dubbed 'Kirchnerism'.
When the 56-year-old conservative won Argentina's presidential election on Sunday, he was the first to force a second round and then land the job. He also breaks the trend of a long line of lawyer presidents, as he is a civil engineer, son of an Italian-born construction tycoon. He only entered politics in 2003, after surviving a kidnapping ordeal.
There followed several successful years at the head of one of Argentina's most-loved football clubs, Boca Juniors. Enjoying Maradona's encouragement, it won 17 international competitions with Macri at the helm.
Macri had been an MP for two years when he ran for mayor of Buenos Aires for a second time, in 2007. Unlike his 2003 attempt, now he soundly defeated the government-backed candidate and the incumbent. He and his Republican Proposal party teamed up with the social-liberal Radical Civic Union and the Civic Coalition to form the centre-right alliance Cambiemos (Let's Change) to strengthen his base for a run at the national presidency.
Macri must forge a strategy to liberalise the ailing economy. Inflation is running around 30%, energy and transport subsidies consume around 20% of public spending. His ambition is to end more than a decade of free-spending populism.
Economist Marcelo Elizondo said: "Argentina's economy has not grown in four years, its exports have fallen. The private sector has not created any jobs in four years. "
Buenos Aires also faces litigation from what it calls 'vulture' hedge funds, demanding payment stemming from Argentina's $100 billion default in 2002. It is refusing to abide by US court rulings.
Analyst Patricio Giusto said: "This is crucial… to receive foreign financing, all the liquidity in the world that is waiting for Argentina to resolve this [standoff], to channel new financing into investment."
Macri pledges to free farmers from punishing export taxes, and lift capital controls to let the overvalued peso achieve its market value.
But Macri only just beat outgoing President Cristina Kirchner's Peronist candidate. As only the third non-Peronist leader since the end of military rule in 1983, he will have tough negotiating ahead, as the Peronists have the majority in Argentina's Congress and Senate.