Israel spy Jonathan Pollard freed by US
Comments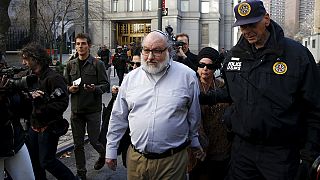 Thirty years behind bars but now Jonathan Pollard a former US Navy analyst who passed secrets to Israel has been released from prison.
It ends one of the longest-running and most contentious issues between the two close allies.
Pollard spied for a year in return for payments until his arrest in 1985. He said he had been frustrated by the US withholding key intelligence from its staunch ally.
The 61-year-old was granted Israeli citizenship while behind bars in Butner, North Carolina. His lawyers are to appeal the conditions of his parole which include having to remain in the US for five years.
"I wish him on his first Sabbath that he will spend with his family a lot of joy, a lot of happiness, a lot of peace. May these be the hallmarks of the rest of his life," said Israeli Prime Minister Benjamin Netanyahu.
The Israeli PM has instructed officials to keep low-key over the release as it might damage efforts to let Pollard leave the US for Israel earlier than his parole allows.
In an interview in 1998 Pollard said the price he had paid for spying had not been worth it.