Kurds and Yazidi fighters drive ISIL out of Sinjar
Comments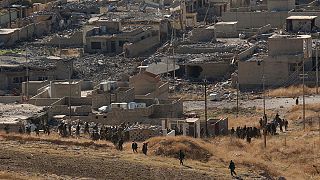 Kurdish and Yazidi fighters have regained control of Sinjar driving the ISIL occupiers out.
==
"Sinjar Is Liberated, But How Can We Come Back?" https://t.co/4FiMWsHlIn

Story by Mike_Giglio</a> Pix by <a href="https://twitter.com/AymanOghanna">AymanOghannapic.twitter.com/OTemeypWkw

— Anup Kaphle (@AnupKaphle) November 13, 2015
==
The operation to retake the strategic town began on Thursday with coalition air strikes against
ISIL
positions.
The ground offensive saw 7,500 Peshmerga and Yazidi forces unite to force ISIL to flee.

A Yezidi peshmerga fighter praying on the roof of a ruined school in #Sinjar at sunset this evening. @vicenewspic.twitter.com/hr4SxtrqxR

— John Beck (@JM_Beck) November 13, 2015
The president of Iraqi Kurdistan Massoud Barzani indicated the fight against
ISIL
is far from over: "Without doubt, any victory in any area will have a big impact on achieving victory in the remaining areas. And without doubt the liberation of Sinjar will have a big impact on the liberation of Mosul too, God willing."
President Barzani announces liberation of #Sinjar and thanks American government & people for support in operation. pic.twitter.com/gXUkuxfZNt

— Julie Lenarz (@MsJulieLenarz) November 13, 2015
The victorious forces then immediately sealed off Highway 47, a vital supply route linking ISIL held Mosul in Iraq to the movements de facto capital Raqqa in Syria.

Kurdish forces say Islamic State defeated in Iraq's Sinjar https://t.co/HYiL0sGy5cpic.twitter.com/QGKFXQKbOc

— The Globe and Mail (@globeandmail) November 13, 2015
The success of the operation will be keenly felt by the Yazadi community after thousands were either killed or enslaved after
ISIL
captured the territory last August.
Those Yazidi that escaped were trapped on Mount Sinjar without food or water.

Sikh volunteers come together to provide food to #yazidi#refugees@LangarAid@Khalsa_Aidhttp://t.co/EO9Z4YEpaSpic.twitter.com/6QiAYN0dbV

— Carbonated.TV (@CarbonatedTV) October 8, 2015
The potential for genocide prompted the US to launch air strikes in Iraq.