Thousands in Bucharest blame corruption for Friday's nightclub blaze
Comments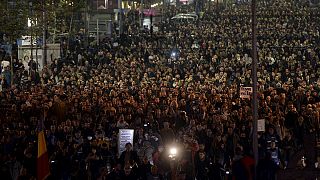 Chants demanding cabinet resignations rang out in the centre of Romania's capital Bucharest on Tuesday (Nov 3) evening as thousands marched towards government head quarters.
Anger and grief spurred on the protest as the death toll from a nightclub fire at the weekend reached 32. Around 130 were injured and remain in hospital, half of them in a critical or serious condition.
Romania's silent minority awakens. #Colectivhttps://t.co/8EOvO5FNFy

— Romania-Insider.com (@romania_insider) November 3, 2015
Many accuse the authorities of corruption in the way they grant permits and inspect of public venues.
"This rally is because corruption is killing us. Until now, it only stole our money," said one protester. "Now, corruption has started to murder in seconds. The whole government should step down, not only for this tragedy, but for all the things they have done wrong….Only two clubs in Bucharest have proper functioning permits, we are all in danger and they've allowed it."
MichaSikor</a> yes we protest for the corrupted system in Romania and the reason so many young people died at colective night club in Bucharest</p>&mdash; Francisc Kertesz (FranciscKertesz) November 3, 2015
The funeral of photographer Claudiu Petre took place yesterday (Nov 3)He's one of two men ( the other is Adrian Rugina) who have been honoured as heroes who died trying to save others in the blaze which began when a firework ignited non-fireproofed insulation foam, triggering a stampede to the only exit.
More protests are being organised through social media for the next few days. Unofficial estimates said that 15,000 people attended Tuesday's march.
A court in Bucharest is in the process of deciding whether to grant prosecutors a 30-day arrest warrant against the three owners of the nightclub called 'Colectiv' , who were detained on Monday on suspicion of manslaughter.