Romania honours two heroes of the Bucharest nightclub blaze
Comments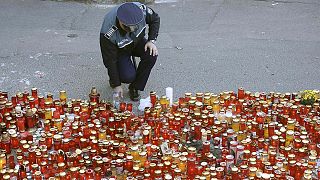 Romania has honoured two heroes of Friday night's blaze at a Bucharest nightclub which claimed the lives of at least 31 people. Both of the men perished in the fire.
Photographer Claudiu Petre went back into the club twice, saving a woman before succumbing to his injuries and drummer Adrian Rugina helped victims of the stampede before being overwhelmed by thick smoke.
Thousands of people have left flowers at the basement club Colectiv where the tragedy happened including President Andrzej Duda of Poland who is in Romania for an official visit. More than 130 people are still in hospital 90 of them in a critical condition.
VIDEO EMOŢIONANT. Ei sunt cei 31 de tineri care şi-au pierdut viaţa în Colectivwww.realitatea.net/1822543

Posted by Realitatea.NET on Monday, 2 November 2015
The club's three owners have been arrested on suspicion of manslaughter. The fire started when fireworks set off inside the club lit insulation foam on a pillar and spread quickly, starting a stampede.
The owners are being held responsible for allowing admittance to too many people in a venue not equipped with sufficient emergency exits.