South African Supreme Court considering new Pistorius verdict
Comments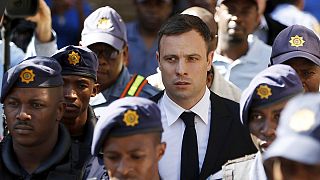 South Africa's Supreme Court is considering whether to scale up Paralympic sprinter Oscar Pistorius' culpable homicide conviction to murder.
The 28-year-old was released on house arrest in October 2015 after serving almost 12 months of a five-year jail term for shooting dead his girlfriend, Reeva Steenkamp in 2013.
Prosecutors argued that high court judge Thokozile Masipa misinterpreted parts of the law when she ruled the state had failed to prove intent to murder.
They say Pistorius must have known the person he fired at four times from behind a closed door could have been killed.
A panel of five Supreme Court judges said they would issue their decision on the appeal at a later date. They could order a retrial, convict the athlete of murder or reject the appeal altogether, according to legal experts.
Pistorius was not present at the one-day appeal hearing. If convicted of murder, he faces a minimum 15-year prison sentence.