Romania: Nightclub fire kills at least 27 people
Comments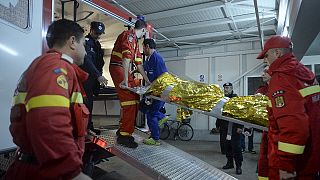 A fire and explosion at a nightclub in Bucharest has left 27 people dead and injured at least another 180.
It has been reported several hundred people were inside the Colectiv club for a rock concert that featured fireworks.
A stampede ensued when smoke began to fill the venue. Several witnesses described the ceiling going up in flames
"There are many victims," explained this Romanian government official. "A lot of people have gone to the hospital by themselves. We've finished monitoring the situation here and will now go to the hospitals to see how they are managing. We'll need to see whether we need to move people to other hospitals."
Romania's Deputy Prime Minister, Gabriel Oprea, said in a statement that an investigation was underway into the causes of the tragedy.
An emergency cabinet has also be called for early on Saturday morning to assess the situation.