Fate of Assad crucial to ending Syrian war
Comments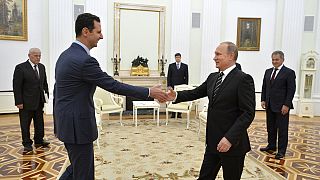 Perhaps evidence of a coming compromise: the first known departure from Syria of President Bashar al-Assad during the more than four-year-long civil war: on 1st October, he visited Moscow. It came just weeks after Russian military forces went active in Syria.
It is very important for the Syrian people that the future of Assad is on the table.
With his guest, Russian President Vladimir Putin said a long-term settlement of the conflict could be reached through a political process, with all the political, ethnic and religious participants involved. Putin added: "Ultimately, the final decision is up to the Syrian people."
Before this, warships had flexed more Russian muscle by launching missiles from the Caspian Sea, at positions held by Assad opponents in Syria — part of his survival policy.
Russian fire power is the linchpin in this, but Iran has helped him hold out this long, sending troops to fight alongside the Syrian Army, a significant regional force.
That Tehran's boots are now followed by diplomats round the international table is a major move forward, according to a Syrian analyst in exile whom we talked to in Vienna.
Tarafa Baghajati: "I think it is very important for the Syrian people that the issue of the future of Assad and his regime, and his role in this provisional time (transition) is on the table, and will be discussed including Iran and Russia. If they succeed to clarify this issue, then I think we could see the light of the solution for Syria."
One of the diplomats' thorniest tasks is negotiating what deal to cut Assad. The US and its allies — notable among them Saudi Arabia and Turkey — have long condemned Assad as a killer of his own people and sworn he must go. But Russia and Iran have held him up as a bulwark against radical Islamist terrorism — the group ISIL.
US President Barack Obama, at the UN last month, conceded that this new common enemy must be tackled.
"The United States is prepared to work with any nation, including Russia and Iran, to resolve the conflict. Yes, realism dictates that compromise will be required to end the fighting and ultimately stamp out ISIL. But realism also requires a managed transition away from Assad and to a new leader."
US-led air strikes on ISIL aside, now the Russians are flying raids on rebels from inside Syria — strong leverage for a compromise.