Outrage in Turkey at take over of media outlets
Comments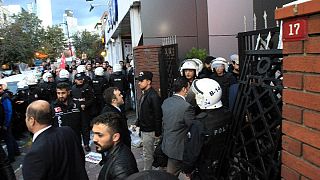 Hundreds of Turkish government critics and opposition leaders have vowed to keep up a protest outside a Koza Ipek outlet namely Bugun TV in Istanbul.
It follows the take over by the Turkish authorities of 22 companies linked to a US – based cleric and arch enemy of President Recep Tayyip Erdogan.
A lawyer for parent company Koza Ipek confirmed that raids had taken place on all 22 firms and that new executives were being installed. Police are said to have detained 19 people.
Opponents accuse the government of a media crackdown in the run up to Nov 1 elections.
'Bugun TV' Editor in Chief Tarik Toros was highly critical of the President Erdogan who he says is behind the management take over at Koza Ipek:
"This is an operation to silence all the dissident voices that the ruling party does not like, including media outlets, NGOs and syndicates. This holds true for opposition parties and businessmen as well. This holds true for anyone who does not obey."
Company officials at Koza Ipek have been accused of making payments to preacher Fethullah Gulen who it is alleged conspired to topple Erdogan. They have denied any wrongdoing.
The European Union has raised concerns about freedom of expression within Turkey which is negotiating EU membership
The measures taken against IPEK Holding are of particular concern ++

— EU Delegation Turkey (@EUDelegationTur) October 27, 2015
++as they both narrow the informational space in Turkey and intervene only a few days ahead of crucial elections. (1/2)

— EU Delegation Turkey (@EUDelegationTur) October 27, 2015
The EU Delegation will closely examine, both until and after the elections, whether due procedure is followed. (2/2)

— EU Delegation Turkey (@EUDelegationTur) October 27, 2015