Iran asked to join the US and Russia in Syria talks
Comments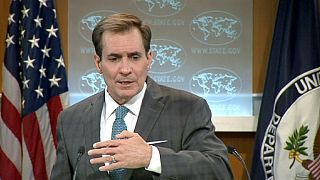 Washington has confirmed that Iran for the first time will be invited to talks with the US and Russia over ending the Syrian conflict. The discussions in Vienna are aimed at finding a framework for a political transition.
Iran's deputy foreign minister is expected to attend.
State Department spokesman John Kirby justified Iran's inclusion:
"We do not certainly by any means approve of the destabilising activities that they (Iran) continue to pursue in Syria. There wouldn't be an interest in having them participate if there wasn't a general desire by the international community for them to play a constructive role in terms of achieving a political transition."
Meanwhile Russia is maintaining its air strikes against what it calls terrorist targets in Syria. A strategy which a critical US says is aimed at bolstering Moscow's ally President Assad.