Voter apathy and low turnout mar Egypt election run-off
Comments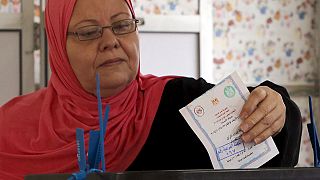 Egyptians voted on Tuesday in run-off elections after no clear winner emerged in the first round.
Voter apathy and low turnout marked round one of the parliamentary vote.
Egypt's last House of Representatives was dominated by the Muslim Brotherhood, elected after mass protests ended Hosni Mubarek's thirty-year rule.
Many say that without the Brotherhood, there is little genuine choice.
"Young people do not take part in these elections because there is something wrong certainly, we still see the same old faces of Mubarak's National Democratic Party and this is unacceptable, especially after the major revolutions witnessed in Egypt," said a man.
The lack of interest in voting reflects disillusionment but also voter fatigue.
Politican analyst Heshman Mahran told euronews: "Egyptian people are bored of going to the polls again and again, and the second thing is that young people are boycotting these elections because the political regimes that ruled the country after the two revolutions did not succeed in achieving their demands and their goals. For example, social justice, providing jobs and a good life in order to give young people a sense of hope for a better future."
Mohammed Sheikibrahim, euronews correspondent reported: "The political indifference which been witnessed during this election is certainly linked to the deep problems still affecting the Egyptians. This, as observers have said, will result in a weak parliament which will not represent the majority of Egyptians."