Death toll rises in Israeli-Palestinian conflict
Comments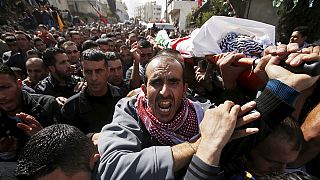 The Israeli death toll in the Middle East conflict rose to 11 on Tuesday (October 27) after a 76-year-old died of injuries sustained two weeks previously.
Richard Lakin, an Israeli-American teacher was wounded in a Palestinian stabbing and shooting attack, while on a bus in Jerusalem.
Most-recently focussed in the West Bank, the violence has been escalating for weeks.
Since the beginning of October, at least 56 Palestinians have been killed in showdowns with Israelis.
The funeral of a man who Palestinian authorities say died during stone-throwing clashes at a village near Hebron was held on the same day Lakin died. Israeli authorities have not yet commented on the Palestinian's death.
While battles rage on the ground, rocket attacks and air strikes have reportedly been going on overhead. On Tuesday (October 27), Israeli forces launched an air assault over the Gaza Strip in retaliation, they say, for a Palestinian rocket strike into southern Israel.