[As it happened] Searching for answers to education crises at WISE 2015
Comments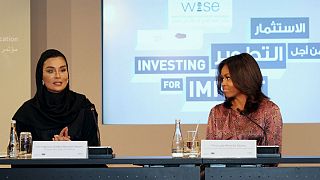 More than 1,500 education experts and decision-makers gathered in Doha, Qatar for the World Innovation Summit for Education to discuss and debate solutions to some of the world's most pressing education problems.
The event, which took place November 3-5, was centred around the theme investing for impact, addressing questions like: What innovative ways can we finance our schools? And how can we make students ready for the job market?
Girls' education was another hot topic, with First Lady Michelle Obama making an impassioned and bold speech: "We cannot separate the issue of how we educate girls from the issue of how we treat women more broadly in our societies," she told the crowd.
Euronews' Learning World team reported live from the event. Replay their coverage below.