Video surveillance hailed as potential 'game-changer' in halting latest Middle East violence
Comments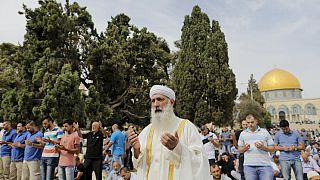 Video surveillance is being hailed as a potential game changer in ending weeks of Israeli-Palestinian violence over the al-Aqsa mosque compound in Jerusalem – on a site sacred to both Jews and Muslims.
US Secretary of State John Kerry says Israeli Prime Minister Benjamin Netanyahu has agreed to the suggestion put forward by Jordan's King Abdullah.
Kerry said this proposition "to provide 24 hour video coverage of all sites on the Temple Mount, Haram al-Sharif" would provide "comprehensive visibility and transparency and that could really be a game-changer in discouraging anybody or disturbing the sanctity of this holy site".
As Kerry met Palestinian leader Mahmoud Abbas and King Abdullah – the site's custodian – in Amman on Saturday, Israel insisted it would respect the status quo under which only Muslims can prayer there.
"We will continue to ensure access to the Temple Mount for peaceful worshippers and visitors while maintaining public order and security," Netanyahu said.
"We welcome increased coordination between the Israeli authorities and the Jordanian Waqf, including to ensure that visitors and worshippers demonstrate restraint and respect for the sanctity of the area."
Netanyahu: Muslims pray on the Temple Mount; non-Muslims visit the Temple Mount https://t.co/4L2ieR790mpic.twitter.com/282tnVnScp

— Haaretz.com (@haaretzcom) 24 Octobre 2015
Violence has flared in Israel, Jerusalem, the occupied West Bank and the Gaza Strip in recent weeks, in part triggered by Palestinians' anger over what they see as Jewish encroachment on the compound.
At least 52 Palestinians, half of whom Israel says were assailants, have been shot dead by Israelis in the West Bank and Gaza since October 1. Nine Israelis have been stabbed or shot dead by Palestinians.
Whatever the impact of the latest diplomatic developments, violence on the ground has continued.
Israeli police say a Palestinian was shot dead on Saturday after trying to stab a security guard at a crossing between the West Bank and Israel.