Palestinian groups call for mass protests against Israel
Comments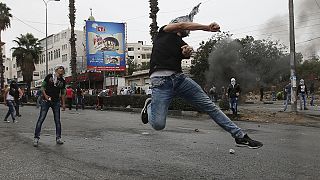 Both Hamas and Fatah have called for mass rallies against Israel in the occupied West Bank and East Jerusalem.
Just after the announcement, a Palestinian teenager stabbed and wounded an Israeli soldier here in the West Bank before being shot and wounded himself.
World and regional powers are holding talks to try and end the ongoing bloodshed which has claimed around 60 lives so far.
Israel lifts restrictions at al-Aqsa mosque
Israel lifts age restrictions for prayers at flashpoint Al-Aqsa holy site https://t.co/HryK9yDZzY

— Agence France-Presse (@AFP) October 23, 2015
The Israeli authorities have lifted restrictions banning men under 40 from using the flashpoint al-Aqsa Mosque in Jerusalem's Old City.
The recent wave of violence was triggered in part by what Palestinians consider is Israeli encroachment on the holy site.
Peace or an end to the current violence?
Politics, with its emphasis on land, borders and statehood, has historically underpinned the conflict.
But some say there is an added religious element to the latest unrest which makes the situation more volatile and even harder to resolve.
There may be much diplomacy but slim hope for the new Middle East peace push: https://t.co/hse8Rf2mGMpic.twitter.com/sjFwbMmKuq

— Reuters World (@ReutersWorld) October 23, 2015
The aim is to stop the current violence and reinforce the status quo at the al-Aqsa Mosque.
There is no substantive talk of launching a fresh effort towards a two-state solution.