Palestinians and Israeli police clash at al-Aqsa mosque
Comments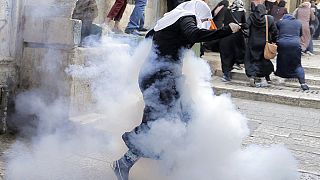 Clashes have broken out between Palestinians and Israeli police at the al-Aqsa mosque in East Jerusalem.
Israeli police raided the compound in what they said was a bid to stem Palestinian attempts to disrupt visits by Jews and foreign tourists on the eve of Jewish new year.
Police used tear gas and stun grenades as Palestinians, who apparently barricaded themselves inside the building, threw rocks and flares.
According to the Palestinian Red Crescent at least 20 people were hospitalised.
Palestinian President Mahmoud Abbas released a statement saying he 'strongly condemned the aggression of the Israeli storming of al-Aqsa."
Israeli police have stepped up security around the site for 48 hours ahead of the Jewish new year as thousands are expected to visit the Old City.
Al-Aqsa, one of the holiest sites in Islam is located at the Temple Mount, which is also the holiest site in Judaism. The compound is often the flashpoint for violence, with the most recent flare up in July.
Tensions have been mounting after the Israeli Defence Minister banned two Muslim groups from the site who were involved in vocal protests against Jewish worshippers at the site.