Israel-Palestinian conflict: building barriers
Comments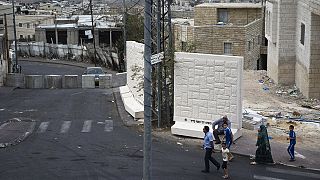 Israeli Prime Minister Benjamin Netanyahu has suspended construction of a 10-metre long concrete barrier, on a street that borders the East Jerusalem Palestinian neighbourhood of Jabel Mukabar and an adjacent Jewish neighbourhood.
Before, the situation was normal, we could bring water when we wanted. Now we are restricted
The construction of barriers by Israel is nothing new. It has already done so, notably in 2002 – to isolate the West Bank.
The construction of the West Bank barrier began under the command of Ariel Sharon, who was prime minister at the time.
The year of 2002 was marked by suicide bombings. Palestinian militants targeted buses and, over six months, more than 200 Israelis were killed.
All of this was happening during the second Palestinian intifada, or uprising.
Sharon's visit to Jerusalem's Al-Aqsa mosque compound in September 2000 was one of the sparks which ignited the violence.
Just over four months later, Sharon was elected as Israeli prime minister.
Over a decade, Israel continued the construction of a barrier along a planned route, around 730 kilometres long – meandering throughout the West Bank and around Jerusalem.
Eighty percent of the barrier is constructed inside the West Bank, in Palestinian territory.
There are still sections yet to be constructed. The structure's projected path will encircle 50 Jewish settlements – to connect them with Israel.
Half a million Palestinians are affected by the barrier, restricting how they move around.
To gain access to agricultural land, farmers must first get permission from the army. As is the case in the village of Azzun, near the town of Qalqilya.
"They do not allow me to go to bring water and irrigate my field that is a few metres away from here. We must first call. Before, the situation was normal, we could bring water when we wanted. Now we are restricted."
The barrier remains in place today. This, despite a UN General Assembly resolution in 2003 against construction and a judgement at the The Hague, which declared some sections in the West Bank illegal.