Russia hits 83 militant targets in Syria in 24 hours, says ministry
Comments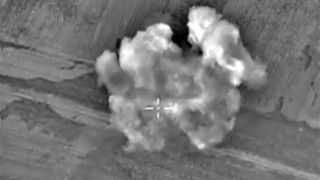 Russia's defence ministry says its planes had carried out 46 airstrikes and struck 83 militant targets in the last 24 hours, according to the Interfax news agency.
The ministry said a range of targets in the provinces of Idlib, Aleppo, Damascus, Hama and Deir al-Zor had been hit. It not mention Homs, however video obtained from social media by Reuters news agency purports to show Russian warplanes striking the town of Talbiseh in Homs.
Activists quoted by Reuters say the Russian jets have been bombarding the rebel-held town for two weeks.
Meanwhile separate amateur video footage purports to show air strikes and Free Syrian Army rebels trying to shoot down what is said to be a Russian aircraft in Syria. Reuters says it is confident the events portrayed are genuine.