Syria's Assad discusses military operation in Kremlin
Comments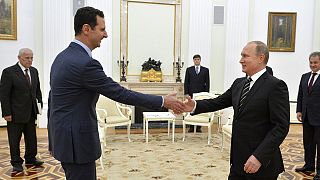 Syrian President Bashar al-Assad made a surprise visit to Moscow for talks about Russia's air operation against Islamist militants in Syria.
The meeting with Russian President Vladimir Putin took place on Tuesday evening but was only made public by the Kremlin on Wednesday.
Syrian television reported the visit is Assad's first trip abroad since the start of the Syrian crisis four years ago.
It comes three weeks after Russia launched an air operation to support Syria's ground offensive.
US and Russian military officials have signed a 'memorandum of understanding' stipulating what their pilots should do to avoid a clash over Syria as both countries carry out separate air strikes.
It was stressed the document was not a treaty of cooperation.
Moscow says it is attacking ISIL, but many of the strikes have reportedly hit territory held by rebel groups fighting against Assad.
#Putin & #Assad agree "Military Ops must b followed by political steps" but solutions 2b based on mil developments" pic.twitter.com/ffDQbZhQrq

— SaadAbedine (@SaadAbedine) October 21, 2015