Balkan bottleneck as thousands of migrants stranded at Serbo-Croat border
Comments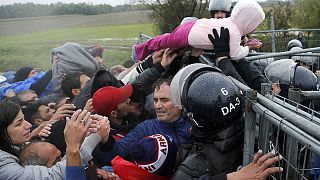 Thousands of migrants are stranded in appalling conditions at the border between Serbia and Croatia.
The tide of wet,cold and exhausted human beings is being held back by Croatian police, as registration camps inside Croatia are full to capacity.

Slovenia refuses entry to hundreds of migrants sent from Croatia http://t.co/3ntEJYg9H7pic.twitter.com/dVTSwbPvyT

— Wall Street Journal (@WSJ) October 19, 2015
The situation is tense and volatile:"Only Croatia is like this. In all the countries they pass everyone and the situation was fine. But here we cannot pass through the border. We are already here with the kids and the children for about four days."
#Serbia - #migrants wait to enter Croatia from the Serbia-Croatia border. By @iandrej#AFPpic.twitter.com/qWdKO8mrVM

— AFP Photo Department (@AFPphoto) October 19, 2015
Slovenia's decision to limit the number migrants it allows in to 2,500 per day has slowed passage creating bottlenecks.
UNHCR coordinator Iroda Asqarova says the situation is serious: "We are estimating somehow between 1,500 to 2,500 people trapped here.As you can see this is a humanitarian, seriously humanitarian situation. You can see, if you go to the crowd you will see women with children, with disabled people, they are all trapped and the border at the moment remains closed from Croatian side."
As many 5,000 people are arriving at the Serbian-Croatian border everyday overwhelming authorities.