As Aleppo offensive continues fears rise over a new exodus of refugees
Comments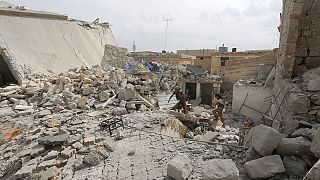 One of the jewels of the ancient world, Aleppo, is facing catastrophe as the forces of Bashar al-Assad and his Hezbollah, Iranian and Russian allies close in on the rebel-held southern and eastern sectors of the city.
For thousands of years Aleppo has been a vibrant commercial crossroads, but much of it now lies in ruins, and the people there who have not fled already are starting to stream out, raising the prospect of a new wave of refugees knocking on Europe's door for sanctuary. Some 3000 families have left in the last few days according to the UK-based Syrian Observatory for Human Rights.
Three Free Syrian Army-affiliated groups say they have received fresh supplies of US-made anti-tank missiles along with mortar bombs and rocket launchers, but that they are under heavy pressure.
On Sunday Angela Merkel was warned by the Turkish prime minister that just such an exodus from Aleppo was on the cards because of the offensive. His suggestion of a safe area being set up behind a military shield has yet to materialise.
Russian planes continue to soften up resistance on the ground in southern Aleppo, but ground forces are finding gains difficult to come by in the face of determined resistance.