'Ebola nurse' Pauline Cafferkey critically ill
Comments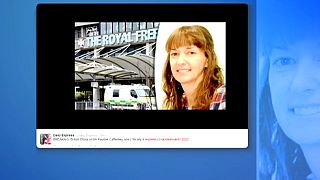 A Scottish nurse who contracted Ebola but apparently made a full recovery is critically ill with complications from the deadly virus.
Pauline Cafferkey was readmitted to an isolation unit at London's Royal Free Hospital last week.
Medical personnel confirmed the virus is still present in her body, but it is not believed to be contagious. Doctors said the 39-year-old was being treated for an "unusual late complication" of the infection.
Cafferkey had been working with Ebola patients in Sierra Leone last year and was diagnosed in Scotland after returning from West Africa.
She was given blood plasma from a survivor and an experimental anti-viral drug by the Royal Free Hospital and later given the all-clear.
People who have recently come into contact with the nurse are being monitored by health authorities as a precaution.
Ebola nurse Pauline Cafferkey's condition has 'deteriorated' and she is 'critically ill' http://t.co/KfvDkx1pwOpic.twitter.com/JETwIT0Tb3

—

ITV

News (itvnews) <a href="https://twitter.com/itvnews/status/654266368200732672">October 14, 2015</a></blockquote> <script async src="//platform.twitter.com/widgets.js" charset="utf-8"></script> <br></br> <blockquote class="twitter-tweet" lang="en" align="center"><p lang="en" dir="ltr">BREAKING: British Ebola victim Pauline Cafferkey now critically ill <a href="http://t.co/0gVBdbUvqJ">http://t.co/0gVBdbUvqJ</a> <a href="http://t.co/S20Ci0Dm8K">pic.twitter.com/S20Ci0Dm8K</a></p>&mdash; Daily Express (Daily_Express) October 14, 2015
Pauline Cafferkey case shows we still know little of Ebola's long-term effects http://t.co/Yjv9FA2oIwpic.twitter.com/fJIfLos3Eq

— The Guardian (@guardian) October 9, 2015