Iraq: Air force claims it has struck convoy carrying IS leader al-Baghdadi
Comments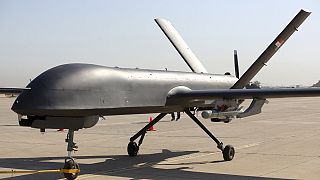 The Iraqi air force claims to have struck a convoy carrying Abu Bakr al-Baghdadi, the leader of the self-proclaimed Islamic State (IS).
He was reportedly travelling to meet other IS commanders in Karabla, around a hundred kilometres south west of Baghdad.
The fate of the militant leader is unknown.
Labelled the 'invisible sheikh' amid rumours he wears a mask to address his commanders, al-Baghdadi is only known to have made one public appearance since 2010. This was the year in which he came out as the head of the militant group al-Qaeda, which later became the Islamic State of Iraq and the Levant (also known as ISIL, ISIS or IS).
The leader has since declared himself in charge of a caliphate, covering areas of Iraq and Syria which IS controls.