Obama apologises for ' tragic mistake' in Kunduz
Comments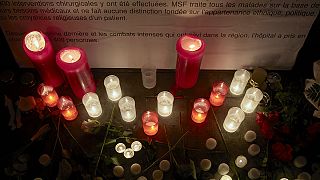 US President Barack Obama has apologised to the head of Medecins San Frontieres for the deadly airstrike on one of the aid agency's hospital's in Afghanistan.
White House spokesperson Josh Earnest described the bombing in Kunduz as a tragic mistake
"The president assured Dr. Liu that the department of defense investigation currently underway, will provide a transparent, thorough and objective accounting of the facts and circumstances of the incident. And that, if necessary, the president would implement changes to make tragedies like this one less likely to occur in the future," said Josh Earnest, White House spokesman
At least 22 people died in the incident at the weekend.
Obama's apology has been accepted but the medical charity has deemed the attack a war crime and is calling for an independent international fact-finding commission to be established into the air strike.
MSF Executive Director Jason Cone said in a statement:
"We are calling on (U.S.) President (Barack) Obama to consent to the fact-finding commission. Doing so would send a powerful signal of the U.S. government's commitment to and respect for international humanitarian law and the rules of war. This is not only about the death of our staff and patients in Kunduz, it is about the safety and security of our medical teams around the world working in conflict zones."
MSF, also known as Doctors Without Borders says the co-ordinates of the hospital were well-known and its bombing could not have been a mistake.
A number of inquiries have been ordered – by the US justice department, the Pentagon and NATO.