MSF demands independent probe of Kunduz bombing
Comments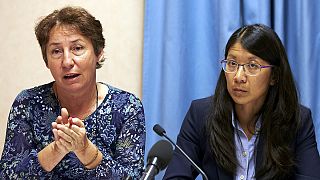 Four days after the US bombing of its hospital in Kunduz, Afghanistan, which killed 22 patients and staff, the medical charity Médecins sans frontières (Doctors Without Borders) is demanding an international inquiry.
Its international president, Joanne Liu, spoke out in Geneva: "We can not rely on internal military investigation by the US, NATO and Afghan forces. Today, we are fighting back for the respect of the Geneva Convention. As doctors we are fighting back for the sake of patients. We need you as members of the public to stand with us to insist that even wars have rules."
The US military took responsibility on Tuesday for the air strike, calling it a mistake and vowing to bring the perpetrators to account.
MSF says it will decide after an independent international fact-finding commission whether to bring criminal charges for loss of life and damage.