MSF holds US command in Afghanistan to account over hospital bombing
Comments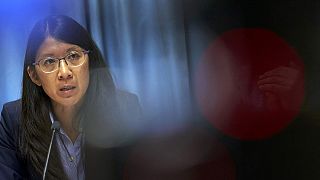 The medical charity Médecins Sans Frontières is demanding a full independent international investigation into sustained airstrikes on its
hospital in Kunduz, Afghanistan, on Saturday. Twenty-two people were killed. The NGO says this might be a war crime.
MSF's International President Joanne Liu said: "We can not rely on the US internal military investigation."
At a press conference in Geneva, she pleaded: "It's very important that somehow there is some clarity on what happened, and that as a community we reaffirm that we are upholding the Geneva Conventions. Otherwise, as a humanitarian aid actor, it won't be possible to continue to work."
MSF has called for the never-used International Humanitarian Fact-Finding Commission (IHFFC) set up in 1991 under the Geneva Conventions to be invoked.
The bombing lasted for more than half an hour, while MSF staff phoned NATO, Kabul and Washington military officials saying they were under attack.
The head of US forces in Afghanistan faced a Senate committee.
General John Campbell said: "We have now learned that on October 3, Afghan forces advised that they were taking fire from enemy positions and asked for air support from US forces. An air strike was then called to eliminate the Taliban threat, and several civilians were accidentally struck.
"To be clear, the decision to provide aerial fire was a US decision made within the US chain of command. A hospital was mistakenly struck. We would never intentionally target a protected medical facility."
The general told senators he had ordered a review of all operational authorities and rules of engagement to clarify the conditions for airstrike calls.
An Afghan Ministry of Defence General also talked about Afghan troops fighting to retake Kunduz from Taliban insurgents.
General Dawlat Waziri said: "The areas where the enemy was hiding, resisting and using human shields, those places have been taken, and the resistance defeated."
MSF refuted assertions by the ministry, which said Taliban fighters were inside the hospital.
Médecins sans frontières (Doctors Without Borders) has always been committed to openness. When the organisation won the Nobel Peace Prize in 1999, its then-president, Dr. James Orbinski, said: "Silence has long been confused with neutrality… We are not sure that words can always save lives, but we know that silence can certainly kill."
Whatever truths are uncovered, the bombing seriously overshadows the US military's involvement in Afghanistan.