Clashes erupt between Palestinians and Israeli soldiers in Tulkarm
Comments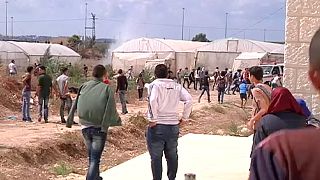 Euronews correspondent Mohammed Shaikibrahim reports from Tulkarm in the West Bank where Palestinians clashed with Israeli soldiers.
He filmed Palestinians falling to the ground in an apparent reaction to what he described as tear gas.
One Palestinian medic interviewed raised concerns over the heavy use of gas.
"Some of the cases we received are in a serious condition as a result of the gas used by the soldiers," said Raed Yaseen, Ambulance Director in Tulkarem city. "This gas is very strange, we have five gas cases transported to various hospitals, in addition to the four cases hit by real bullets.This gas caused suffocation specifically when its sent in large quantities, as they are losing control of the movement and thus they need an ambulance quickly."
Just four days earlier a Palestinian teen was shot dead by Israeli soldiers in Tulkarm, where the tension shows no signs of abating.
In the latest developments, a Palestinian has died from gunshot wounds sustained during clashes with Israeli forces. The mounting unrest has raised fears of a broader uprising.