Abbas calls for peaceful resistance after spate of fresh stabbing attacks
Comments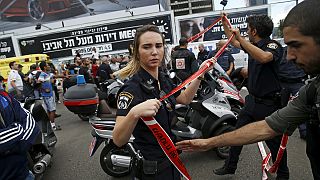 Four people, including an Israeli soldier have been wounded in a stabbing attack in Tel Aviv. Police report that the assailant was shot by another soldier as he fled.
It comes soon after a Jewish student was stabbed by a Palestinian earlier on Thursday in Jerusalem. There have been at least eight such knife attacks in the last week.
The President of the Palestinian Authority addressed the spate of violence by urging Israel to keep away from holy sites such as al-Aqsa mosque and urging Palestinians to refrain from violence, saying, "We won't act like them, we will not use violence or force, we are peaceful, we believe in peace, in peaceful popular resistance."
He also said that he wants to avoid armed confrontation with Israel.
In a bid to quell tensions, Israeli Prime Minister Benjamin Netanyahu banned ministers from visiting al-Aqsa, while asking Facebook and Youtube to remove videos it says are encouraging Palestinian attacks.