Netanyahu bans al-Aqsa visits from ministers to ease tensions
Comments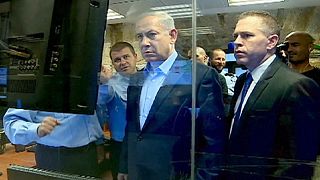 Israeli Prime Minister Benjamin Netanyahu has banned cabinet ministers from visiting the al-Aqsa mosque compound, in a bid to ease tensions around the flashpoint holy site in recent weeks.
The unrest has sparked fears of an uprising on a wider scale, in the latest incident a Palestinian stabbed and wounded a Jewish seminary student on a main road in Jerusalem, according to police.
In the last week four other Israelis have been killed in knife attacks in Jerusalem and a drive-by shooting in the West Bank, while two Palestinians have been shot dead and many more wounded in clashes with security forces.
Israeli government officials have accused Palestinian leaders of inciting Palestinians to violence, playing on concerns over the al-Aqsa site. However, they noted that security cooperation with the Palestinian Authority is continuing.
Despite efforts at calming the situation, Arab lawmakers have vowed to defy the order and visit the al-Aqsa compound on Friday, when many Muslim attend prayers. Many fear that Israel will change rules governing the site.