West Bank Palestinians, some want to fight, others hope quietly
Comments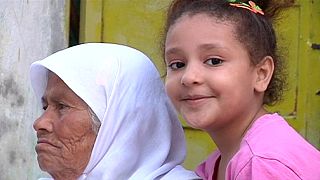 Euronews has been talking to Palestinians about what day to day life is like in the West Bank, in the refugee camp city of Tul-Karem and then in Nablus.
Palestinians' daily life has not changed.
Despite being administered by the Palestinian National Authority — an interim self-government body now dominated by the Fatah party — over the years of no progress being made in negotiations with the Israelis, the people we met said nothing has fundamentally changed for them.
Israeli barriers separate them from other cities. The Israeli government alone controls security in the West Bank, the army patrolling towns and villages daily.
The Palestinian Authority, established through the 1993 Oslo Accords, administers around 40% of the West Bank — Israel as the occupying power some 60%. Israel captured the West Bank from Jordan in the Six-Day War in 1967. By then it was already a refugee territory for Arabs who had fled their homes during the establishment of the State of Israel in 1948.
One Nablus resident told us: "From 1967 till today, our life has got worse and worse, some people here wanting to fight, others not. They just want to survive. Our circumstances in general are very bad."
Human Rights Watch is just one of the NGOs to condemn abuses by Israel and by Palestinian security forces in the West Bank, reporting that Israeli forces have killed civilians and demolished homes; Israeli and Palestinian security services have arrested people arbitrarily, and unlawfully restricted activists calling for peaceful change. And Jewish settlements keep being built.
We were told: "Palestinians' daily life has not changed. We get strikes from time to time at the universities as part of the clashes. People wonder if this is a new Intifada or not? Employees wonder if their salaries will be paid, or not. This is our life in Palestine."
More testimony: "As you can see, we are still living under the Israeli occupation, and the economy is also very bad. We are not satisfied with our life, it's unstable and insecure. Young people are suffering from unemployment."
Many people fear that a third Intifada would make things much harder, and further restrict the movement of people and goods, medicine, water, and impair services, including electricity.
Our correspondent Mohammed Shaikhibrahim summed up: "The hope that Palestinians sustain for a better tomorrow, after decades of suffering, is unfailing; they say they simply don't have any other choice but to be patient."