Anti-austerity protesters battle police in Brussels
Comments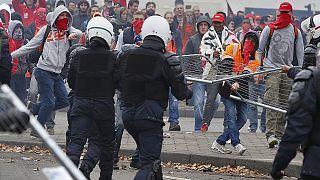 Police and anti-austerity protesters have engaged in running battles in the Belgian capital Brussels.
Tens of thousands took to the streets as part of a national day of protest against the policies of Prime Minister Charles Michel.
Charles Michel's 1st year was a success — Charles Michel's 1st year was a failure. http://t.co/AXBtijkK43#begovpic.twitter.com/7V3gIFP3oc

— POLITICO Europe (@POLITICOEurope) October 6, 2015
The demonstration was organised by the country's three main trade unions.
Things about to kick off again here at Brussels anti-austerity protest pic.twitter.com/f48Y5KCnmJ

— Jerome Hughes (@Jerome__Hughes) October 7, 2015
Unions claim the government is promoting big business at the expense of workers rights.

Went to a protest in Brussels with @fukami & @jensmuecke. Got tear gassed & water cannonned. Good day :) #bruconpic.twitter.com/iRfyIJtxx4

— Khalil (pilgrim) (@sehnaoui) October 7, 2015
Marc Goblet is from the FGTB trade union:"As it is the first anniversary of the government, we want to protest against all the measures t taken against working people, while protecting the rich.It is unfair."
The protests crossed Belgium's linguistic divide.
"I am an adviser to the those out of work.Everyday I see the problems and the costs they face. Everyday things get more difficult," said one demonstrator.
Cuts in social services, and the raising of the retirement age are just two in a raft of government policies the unions oppose.