France tries to repair its image abroad after violent Air France confrontation
Comments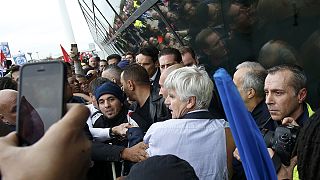 The French President says scenes of Air France workers attacking managers at Charles de Gaulle airport are unacceptable.
Francois Hollande fears the footage will have damaging consequences for the country's image abroad.
Il faut un dialogue social apaisé. S'il est interrompu par des violences inacceptables, cela a des conséquences sur l'attractivité du pays.

— François Hollande (@fhollande) 6 Octobre 2015
Angry staff blockaded a meeting about a drastic cost-cutting plan on Monday.
Managers were forced to flee.
Seven people were injured, one seriously.
The incident has made headlines around the world.
#AirFrance : le DRH agressé se dit "choqué" et "déçu" >> http://t.co/BD5Z7jW4Azpic.twitter.com/dwS20i5v6G

— Challenges (@Challenges) 5 Octobre 2015
The country's Transport minister says France has changed and images like these are no longer representative.
Air France's head of HR Xavier Brosseta, who lost his shirt in the scuffles, was visibly shaken:
Xavier Broseta, le DRH d' #AirFrance, revient sur son agression > http://t.co/j5S8ZVNNllpic.twitter.com/7GtBkVHCb9

— Atlantico (@atlantico_fr) 6 Octobre 2015
"On a personal level, I am of course shocked and disappointed, but I wouldn't want to see scorn thrown on the whole of the workers and the unions at Air France."
Angry workers also invaded the press conference.
Air France has begun legal action over the incident, which has been condemned by management, unions and government officials.
But defiance remains. Christophe Mallogi is Secretary General of the FO union at Air France:"We do not sanction acts like this but I think people are fed up, the employees have made a huge effort but at the same time the bosses are talking about redundancies. Their explanation is not acceptable and the workers made this very clear in their own way."
Air France says it will press ahead with its cost-cutting plan involving the loss of 2,900 jobs by 2017.
Prime Minister Manuel Valls will meet with Air France bosses at the airport on Tuesday.