Refugees heading to Europe? I'd do the same, says EU Commissioner
Comments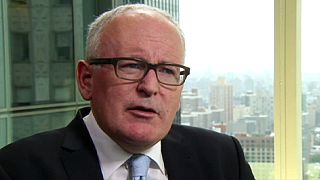 EU Commission First Vice-President Frans Timmermans has been recounting his experience of meeting migrants and discussing their plight.
He has been talking to Euronews special correspondent Stefan Grobe in The Global Conversation which will be shown on Euronews on Wednesday evening.
"I spoke to families of refugees on the island of Kos in Greece, and they were telling me: 'Hey, I was living in the refugee camp in Lebanon; I was doing OK but after two years I ran out of my money, my savings have been spent, I want to feed my children, I can't feed them there, that is why I want to take them to Germany to feed them there.' Would you do anything else? I would do exactly the same as a father if I needed to do that, you know," he recalled.
But what of security issues that could arise from migrants crossing borders? Stefan Groebe put this point to the First Vice-President.
"The US Department of Homeland Security has estimated that there are roughly 4000 Islamic militants who have infiltrated Europe, disguised as refugees. Is that more or less an accurate assessment? And do you fear a higher terror threat level in Europe?" he asked. "I don't know this number; I don't know this assessment, so I am not in a position to comment on it. But it stands to reason that if people move to Europe, there might be also criminals in that movement, there might also be terrorists in there," responded Frans Timmermans.