German government agrees new measures to cope with the migrant influx
Comments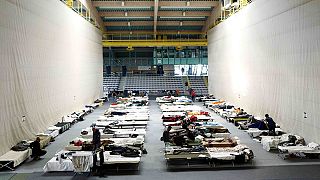 Chancellor Angela Merkel's cabinet has agreed a package of measures to help German towns cope with the influx of asylum seekers amid Europe's migration crisis.
With the focus on those fleeing conflict, it has backed a tightening of rules for asylum seekers from the Balkans that would make it easier to deport applicants from countries like Albania, Kosovo and Montenegro, which the government has now declared 'safe '.
For Syrian and other refugees, there are steps to provide more housing and support for unaccompanied minors and to speed up the asylum process.
Overcrowding at some refugee camps has fuelled anger and fights among the new arrivals.
On Sunday, 14 people were injured in a clash at refugee accommodation in the German state of Hesse.
Trouble is said to have flared when one migrant jumped the queue at a food counter.
"There is no space for 6,000 people inside the camp," said one migrant living there, complaining that he was unable to get food because of violent disputes there.
On each of the last four days, between 8,000 and 10,000 asylum seekers have entered Germany according to official figures.This is despite Berlin's reintroduction of border controls with EU neighbours to try to stem the flow.
With her conservatives dipping to a one-year low in a new opinion poll, critics claim that Angela Merkel has fuelled the influx by effectively giving asylum seekers the green light to come.
With Germany expecting up to 1 million #refugees, resentment against Berlin's open-door policy is growing. http://t.co/KEH2kxWxdG

— Handelsblatt Global (@HandelsblattGE) September 29, 2015