Migrants set to follow new route through Europe as winter approaches
Comments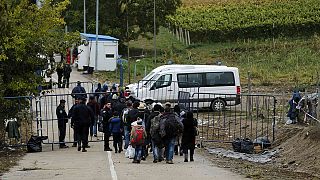 Winter is fast approaching, with temperatures dropping – further complicating the plight of migrants and refugees en route for western Europe.
Croatia plans to install heating at the Opatovac transit camp near the border where bus loads of people continue to arrive from Serbia – paying up to 60 euros for this latest stage in their long and difficult journey.
"It is not about expensive or cheap. It is dangerous," said Abu Zhiad from Syria.
Swedish chef, Victor is one of the volunteers helping refugees on the Serbia Croatia border. He cooked 6K meals. pic.twitter.com/t1nTCFMxE7

— UNHCR Central Europe (@RefugeesCE) September 28, 2015
Amid colder weather, migrants are expected to switch their northerly route through Europe for a more southerly and warmer trajectory through Albania and into the Prevlaka peninsula on Croatia's southern coast.
Duje Buljubasic from Metkovic said he would be happy to welcome people from war-torn Syria, Iraq and elsewhere.
"We have to act as citizens and support them and help them as much as we can," he said.
"I am ready to share a last crust of bread with them," said fellow Metkovic resident, Nikica Bulum.
In the Dubrovnik region, better known for hosting tourists than migrants, reception facilities are being prepared. Initially surprised by the scale of the influx over its borders, Croatia doesn't want to make the same mistake again.