Thousands of migrants make camp in central Athens
Comments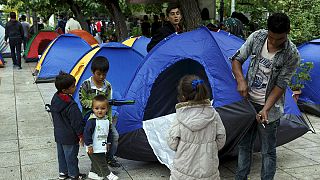 At Victoria Square in central Athens thousands of stranded asylum seekers from Afghanistan have made a makeshift camp.
Migrants camp in central Athens square - http://t.co/jyzqxDhdRs | Swiss Cloud Server http://t.co/i0knbaoTb5pic.twitter.com/ZsMuBoAvVi

— BW Breaking News (@BWBreaking) September 12, 2015
The migrants have no papers and nowhere to go.
Children fight for milk cartons given by anonymous donor in Victoria Square Athens.@Newshour tonight pic.twitter.com/sYbkvLEbTu

— Malcolm Brabant (@MalcolmBrabant) September 23, 2015
Some in the camp believe the problems of Afghanistan are being ignored while the international community focuses on Syria.
"Why does the world think that Syria is the only country at war, nobody thinks about Afghanistan, its been at war for 50 years!, about 50 years and what about the facilities? No water, no electricity; no possibility for any education in Afghanistan. All these teenagers grow up with no education."
Victoria square at the center of Athens. After a rainy night. Inhuman condition. No toilet. Many of them sick. pic.twitter.com/cbeXagFevK

— Greek Refugee Forum (@Refugeegr) September 23, 2015
Greeks are doing what they can to help but resources are limited : "The Greek government has many problems and we as people have many problems ourselves. And we can't solve the problem, there are too many we do what we can but it's not enough. I think that there are nations there that are very wealthy they can really help," said a civil servant handing out food.
Πλ. Βικτωρίας / victoria square Athens #refugeescrisis#refugeeswelcome#refugeesGrpic.twitter.com/VGodou8dPT

— DLamp (@LampDim) September 8, 2015
Those in camps face a difficult few days ahead with heavy rain forecast for Athens.