Pope Francis tackles subjects that divide America in historic speech to Congress
Comments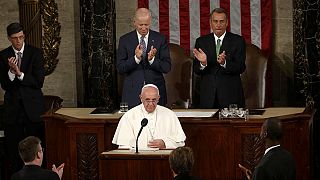 Pope Francis, in the historic first address to the US Congress by the leader of the Roman Catholic church, ranged far and wide covering a number of hot-button issues including climate change, the death penalty, the arms trade, and marriage and the family.
He reminded those who want to put up border fences that America a nation built by immigrants.
"We, the people of this continent, are not fearfull of foreigners, because most of us were once foreigners," he said. "Building a nation calls us to recognize that we must constantly relate to others, rejecting a mindset of hostility in order to adopt one of reciprocal subsidiarity."
Francis concluded to a standing ovation, having directly addressed a number of issues that divide Americans and which concern both conservatives and liberals.
Following the speech Francis went to greet the large crowd that had gathered outside Congress and waved to them from a balcony. He then departed to meet homeless people, with New York the next stop on his itinerary.
However several commentators noted that despite the speech's strong content, the message may have been dulled by Francis's slow and heavily.accented English.