Pope Francis hails warming US-Cuba ties on arrival in Havana
Comments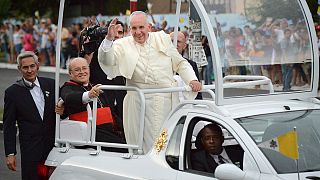 Pope Francis has hailed improving ties between Cuba and the US, saying they are a model of reconciliation.
He has touched down in Havana for an historic visit, where he was greeted by an honor guard and a handshake from President Raul Castro.
Commenting on the warming relations between Cuba and the US, Francis said: "I urge political leaders to persevere on this path and to develop all its potentialities as a proof of the high service which they are called to carry out on behalf of the peace and well-being of their peoples, of all America, and as an example of reconciliation for the entire world."
Better sensitised to the issues than predecessors because of his Latin American roots, the 78-year-old pontiff facilitated a back channel for talks and sent missives to Raul Castro and Barack Obama at a delicate stage in the secret negotiations in 2014.
That bore fruit with a prisoner swap, the opening of embassies, and an easing of some of the travel and trade restrictions, although a half-century-old economic embargo is still in place, only removable by the US Congress.
Francis is a popular figure in Cuba. Thousands of people lined the streets to welcome him on Saturday.
He waved from the latest version of the iconic popemobile, as he made his way to the home of the Vatican's ambassador to Cuba.
Pope Francis is spending four days on the island, before heading to the US.