Burkina Faso: Presidential Guard seizes control in coup d'état
Comments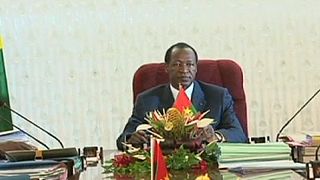 Officials say there has been a coup d'état in Burkina Faso.
Guards loyal to ousted President Blaise Compaoré have taken the interim government leaders hostage.
They have dissolved the country's transitional institutions and are promising to organise fresh elections.
Interim President Michael Kafando and Prime Minister Isaac Zida were arrested during a cabinet meeting along with several others.
There is anger at a new law forbidding Compaoré's supporters from standing in next month's election.
International condemnation has been swift.
The landlocked, West-African state is a key ally of France and the US in the fight against Islamist militants in the Sahel.
In 2014, Blaise Compaoré tried to change the constitution to continue his 27-year tenure. He was forced from office after angry protests.
Barricades have been put up around the government complex.