Dozens killed in restaurant blast in central India
Comments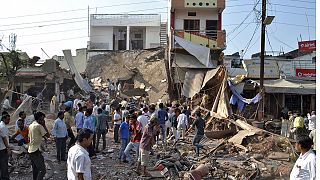 At least 85 people have been killed and around one hundred injured, after a cooking gas cylinder blew up in a crowded restaurant in central India.
Police say the explosion triggered a second blast of construction detonators, stored illegally nearby.
The blasts tore through the restaurant as people sat down for breakfast in the town of Petlawad, around 800 kilometres south of Delhi.
A neighbouring building collapsed and several others were damaged.
According to police, people who had gathered outside the restaurant after the initial blast were caught in the second explosion, when gelatin sticks stored in a nearby building caught light, blew up and buried scores of people as the roof caved in.
The death toll rose as rescue workers pulled bodies from under the rubble.
The accident is one of the deadliest to hit India in recent years.