France: welcomes first migrants to come via Germany and Hungary
Comments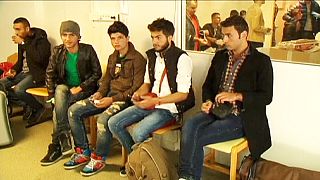 France has welcomed its first group of migrants to have arrived from Syria and Iraq via Hungary and Germany.
53 people are being housed in university halls of residence in Champagne-sur-Seine, 80 kilometres south of Paris.
The Red Cross is expecting up to a thousand to arrive in France by Friday.
A Champagne-sur-Seine, 53 réfugiés viennent d'arriver d'Allemagne. #refugiespic.twitter.com/GVHU0AfqcF

— Clémentine Maligorne (@ClemMali) September 9, 2015
"I am happy at the moment," one man said,"afterwards I don't know how I will feel. Now I am very happy, people are very friendly, thank you so much, merci, merci beaucoup."
Red Cross workers provided breakfast for the new arrivals before taking them to their temporary accommodation.
They are expected to stay there for up to three months while their asylum applications are processed.