Overnight stand-off as migrants refuse to go to Hungary refugee camp
Comments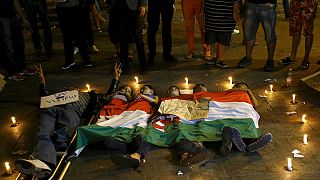 Hundreds of migrants are still refusing to go to a Hungarian refugee camp, despite being stuck for hours on a train at a small town, west of Budapest.
As the stand-off continued overnight into Friday, only a handful
of people stranded at the town of Bicske boarded buses to the nearby camp.
In another small Hungarian town, Nagyszentjanos, passengers of another train that stopped before reaching the Austrian border have been staging their own protest – by going on hunger strike.
Their dream of reaching Germany is, for now, on hold as Hungary insists they must first be registered according to EU rules.
But the refugees are refusing to go to camps and many lay on the ground, shouting "No camp, no bus".
"Now we are here 5, 6 hours, we are here waiting," said one Syrian woman from Aleppo.
"No food no water, we are not going to eat."
They had started the day full of hope as police let them into Budapest railway station after two days of being kept outside.
Many migrants refused to get on the trains provided – unsure of their destination. Others took their chances, only to find that their hopes of a new life were going nowhere.
Migrant children's drawings of death, destruction and dreams from the Hungary train station. http://t.co/jPcVOnSXA6pic.twitter.com/4UiEEAoTU7

— Wall Street Journal (@WSJ) 3 Septembre 2015