Bicske: Hundreds refusing to leave migrant train
Comments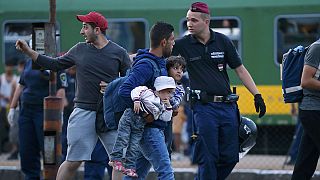 500 people are refusing to get off a train in Bicske, a small Hungarian town 40 kilometres west of Budapest, according to agency reports.
A tense stand-off has developed between police on the platform and migrants in the carriages.
One family threw themselves onto the railway lines while others scuffled with officers trying to take them to a nearby reception centre.
Only 30 people have gone to the site to be registered.
Hundreds of migrants boarded the train in Budapest, believing it would take them to Austria.
Local media say a second train has stopped near the north-western town of Győr and several dozen migrants have been escorted off by police.
"We are not animals, we are not criminals, we have the right to cross this border. We are going to Germany." said one man beside the train, waving his ticket.