EU readies fresh refugee proposal
Comments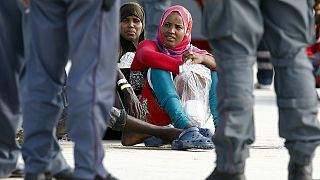 Nearly three months after EU leaders failed to agree on how to resettle 40,000 asylum seekers who have arrived in Italy and Greece, officials in Brussels are set to return with a fresh proposal.
Governments agreed to relocate just 32,000, starting this October
"The fair distribution of at least 100,000 refugees among the EU states is what we in fact need today. If leaders do not demonstrate good will, solidarity will become an empty slogan," said Donald Tusk, the European Council president.
Germany and France have also repeated their calls for a permanent quota system.
Media reports suggest the European Commission will call for 160,000 refugees to be resettled from Italy, Greece and Hungary.
Commission officials declined to comment.
Germany says it expects to take in some 800,000 asylum seekers this year.
It is four times as many as the country took in last year.