Sardinia: 781 migrants brought ashore
Comments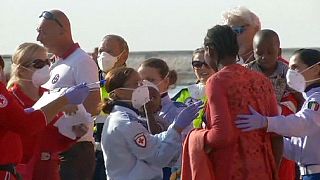 The media focus on migrants may have currently shifted to central Europe and Hungary.
But the flow of arrivals continues on the shores of southern Europe.
Eleven pregnant women were the first to disembark from the Norwegian merchant vessel "Siem Pilot" after it arrived in the Sardinian port of Cagliari.
They were followed by 770 others.
Almost 3,000 have been rescued in the straits of Sicily over the two days.
Men, women and children disembarked. Six bodies were also taken ashore.
A first aid post has been set up in the harbour.
After being registered, the arrivals will be sent to reception centres throughout Sardinia.