Drowned Syrian boy's story stirs strong emotions over migrant crisis
Comments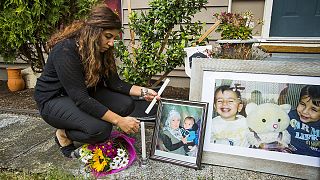 The tiny body of a drowned Syrian boy has become the symbol of Europe's migrant crisis.
The smuggler said: Don't worry about it, we did it 100 times and it is very safe.
Pictures of little Aylan Kurdi in a bright red T-shirt and dark shorts, lying face-down in the surf off the Turkish holiday resort of Bodrum, shocked the world and piled pressure on EU leaders to act.
Abdullah's family had wanted to emigrate to Canada after fleeing the war-torn town of Kobani, in northern Syria.
His aunt Tima Kurdi, living in Canada, has spoken of how the three-year-old, his five-year-old brother Ghalib and their parents joined other refugees, in boats sailing from Bodrum in Turkey.
Only the boys' father, Abdullah, survived.
"There were 12 of them. He was upset with the smuggler. He said: 'I'm paying you the double what the rubber boats will pay for. You can't put 12 with us. It is too heavy.' The smuggler said: 'Don't worry about it, we did it 100 times and it is very safe."
In total 12 people, including other children, died after two boats capsized while trying to reach the Greek island of Kos.
Several suspected people smugglers are reported to have been arrested
With his family's bodies flown to Istanbul, Abdullah Kurdi is now heading back to Kobani to bury them.
Abdullah Kurdi, father of the drowned Syrian boys speaks out http://t.co/Cf4Ghh3ypFpic.twitter.com/c0Tje9ao46

— New York Times World (@nytimesworld) 3 Septembre 2015
He hopes the world's attention will help prevent more tragedies, saying: "Let this be the last."