Aylan Kurdi: the boy whose picture broke the world's heart
Comments
By
Euronews
with
Dogan, National Post, Reuters, BBC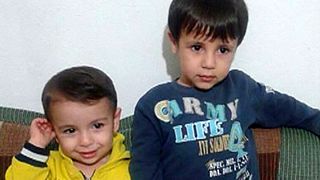 The photograph of a Syrian toddler whose tiny body washed up on a Turkish beach in Bodrum has stirred horror and outrage around the world on Thursday (Sept. 3).
Placarded across the front pages of most UK newspapers and sweeping social media, the harrowing image of the inanimate baby boy lying face down in the surf has been cited as a tragic symbol of Europe's refugee crisis.
But like thousands of children, men and women often described in generic and anonymous terms like "migrants" and "refugees," this little boy had a name, a family and a story.
News outlets in Turkey including Dogan News Agency identified him as 3-year-old Aylan Kurdi. Wearing a red t-shirt, blue shorts and sneakers, he lost his life when the boat he and his family had boarded en route to Europe capsized off the Turkish coast on Wednesday (Sept. 2).
Aylan was reportedly travelling with his 5 year-old brother Galip and his parents to the Greek island of Kos. Galip and the mother, Rehan, are said to have also drowned. The father, Abdullah, was found semi-conscious and taken to hospital near Bodrum, according to Turkey's Sabah newspaper.
Media reports said the Kurdi family were Syrians from the war-torn, northern town of Kobani who fled to Turkey last year to escape the advance of Islamic State (ISIL) militants in their home country. Syria has been ravaged by civil war for over four years before Aylan was even born.
In heartbreaking contrast to the photo that made headlines, an undated one purportedly showing Aylan and his brother before they embarked on their tragic boat journey — laughing and cuddling a teddy bear — began circulating on social media on Wednesday evening.
Aylan Kurdi, the 3 yr old who washed up at Antalya and captured the world's attention, as he should be remembered: pic.twitter.com/PW75JIdHoV

— Michael Weiss (@michaeldweiss) September 2, 2015
"I heard the news at five o'clock this morning," Teema Kurdi, Abdullah's sister and a resident of Vancouver, was quoted as saying by Canada's National Post newspaper.
She told the paper that Abdullah and his family had made a privately-sponsored refugee application to the Canadian authorities that was rejected in June because of complications with applications from Turkey
"I was trying to sponsor them, and I have my friends and my neighbours who helped me with the bank deposits, but we couldn't get them out, and that is why they went in the boat," she told the paper.
According to the National Post, Abdullah's relatives say his only wish now is to return to Kobani to bury his wife and children and be buried alongside them.
"He made it, but his wife didn't and there's a terrible story he told about swimming from one to the other," reporter Terry Glavin, who interviewed his sister for the National Post, told BBC Radio 5 live.
Aylan, his brother and his mother were among at least 12 presumed Syrian refugees who died trying to reach Kos after two boats, carrying a total of 23 people, set off from the Bodrum peninsula, according to Turkish authorities.