Day of chaos hits Hungary as migrants march to Austria
Comments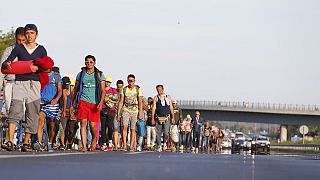 Amid chaotic scenes at Keleti station in Budapest a thousand, mainly Syrian nationals, have set off for Vienna on foot.
Keleti is walking! Refugees and migrants walking down main highway to the Austrian border. pic.twitter.com/bQ9UYLSstJ

— gultuysuz (@gultuysuz) September 4, 2015
Earlier right-wing extremists hurled fireworks into the crowd that had been camped at the station for days, sparking an angry response.
The migrants are desperate to reach Germany.
As Europe witnesses people movement reminiscent of the Second World War locals offered food and water to those heading for Austria.
EU states have been unable to come up with a coherent response to the crisis.
At Bicske station outside the capital the two-day stand-off between migrants on board the so-called 'freedom train' continues as passengers refuse to disembark to be processed at a refugee centre.
#Refugee outside the #train in #Bicske#Hungary holds up sign asking "Where is the World?" pic.twitter.com/zR08ePD13y

— Mohammed Jamjoom (@MIJamjoom) September 4, 2015
As chaos marked the day hundreds of people escaped a camp at Roszke close to the Serbian border and are being pursued by the authorities.
#Hungary closes main border crossing with #Serbia: http://t.co/qrWOQGYKAH#Roszke#Refugees#RefugeeCrisispic.twitter.com/GPgdxlImxs

— Saulo Corona (@saulocorona) September 4, 2015
Police are attempting corral the rest using pepper spray.
One person is reported to have died in the confrontation.
Tensions are at boiling point.